Radio has always fascinated me, at least the hardware aspect of it. But becoming a live on-air DJ was probably the single most unlikely thing that could have happened to me. Naturally, being the least likely thing to happen, it did.




CURRENT SHOW


I currently have one live radio show on Our Generation Radio (WOGR DB Columbia, SC) every Saturday. My show is 2 hours long, and starts at 4 PM Eastern (GMT -0700, or 1 PM Pacific.) I am currently doing a show called "The Decades of Rock" where each block of music is from a different decade, starting with the 50's and running sequentially through the millennium.


Public Appearances
I have been known to broadcast while in the Second Life Virtual World, and I even do live shows from dance clubs. (Although not so much recently.)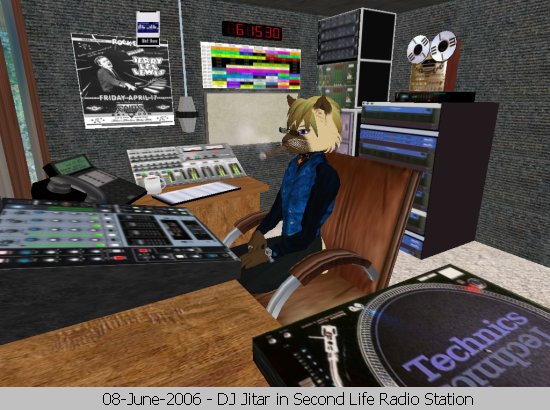 MUSIC
I have a particular fondness for Rockabilly, Swing and Jump-Blues, but you can hear just about every sub-genre of Rock and Country on my shows. My complete playlist is viewable here on My website. (Click the PLAYLIST button in the top menu.)



How it Happened
Most of my Childhood was spent learning Music, an activity my Mother and Grandmother both supported and encouraged. At the age of 5 they arranged for me to study Accordion with Maestro Milton Mann at his music school. I also studied Piano with one of the Dominican Sisters of Mission San Jose, while attending Saint Catherine's Military Academy in Anaheim. It was while attending St. Catherines that I met Paul Newman (Local AM station DJ, not the actor) who was working part time at the school, and became interested in Radio. During the early/mid 70's I hung out with "Humble Harve" Miller and Charlie Tuna at KKDJ-FM in Los Angeles.

I came to Internet radio just after Christmas In 2005. I had met the wife of the owner of Club-69 Radio at a dance club, who encouraged me to apply to the station. It took Sandy (and MeowTuna) a lot of talking to convince me, but I did audition and was hired by the station. I have been on-the-air ever since.




Specials and Clips


From time to Time I manage to get pre-release recordings from my friends, and from the record companies. The Audio Clips in this section are recorded live from my shows and are in MP3 format. Clicking the LISTEN icon should open your media player.


Air Date

Description

LISTEN

30-Jun-2006

Jerry Lee Lewis Special
60 Second Pre-Release clip from his new album "Last Man Standing." (This Audio Clip includes a compilation of my voice breaks leading up to it.)


02-Jan-2009

The 2nd break from Decades of Rock, Show #007. Features a clip of an unreleased calypso version of Little Richard's Slippin and Slidin.


19-Nov-2016

First Ever Radio play of the New Rolling Stones song "Just your Fool" (2 Weeks before release, includes voice breaks before and after with commentary about the song.)

DJ Jitar's Re-Mixes


Like most DJ's I have re-mixed several songs over the years. Mostly as techno versions of popular songs. My Decades of Rock shows start with a techno re-mix of California Dreamin' which I call "I travel through time." The most popular of my re-mixes is Anita Ward's "Ring my Bell." You can hear these (and other) re-mixes on my shows on occasion.